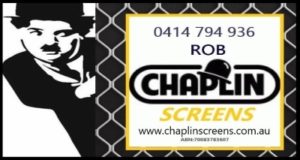 Stainless Steel Doors and Windows
Stainless steel doors are constructed from "316 Grade" marine woven stainless-steel meshing, are resistant to corrosion, and come with a 10-year warranty on product, subject to maintenance.
Stainless Steel window screen
Sample Size – Stainless Steel Sliding Door
Security Doors and Windows
All security doors and security grills are made with 7mm Diamond Grille, and riveted to the aluminium frame, not like some commercial manufacturers that are solely crimped, which are not as strong. Security hinged doors can either be single or triple lock, are 3 hinged and come with the bug strips.
All sliding security doors have spring loaded wheels top and bottom, are interlocked into the glass sliding panel, and can be keyed alike to existing security doors.
All doors and grilles are colour matched to existing frames, and can be powder coated for special orders.
Sample Size – 7mm Security Door 2 hinge
Sample size – 7mm Window Grille
Sample Fly screen

Additional services include, but are not limited to:
Pet doors into existing frames or new doors made to specification orders, in either stainless steel or security grill.
Sliding Servery doors through kitchen window to entertainment areas, a specialty.
Safety screens for the protection of children in both multi story homes, and apartments.
Maintenance, re-mesh and realign, or replace sliding screen door wheels and locks.
Additional Information
Appointments available 7 days a week
Free No obligation Quotes
Personal friendly service
Pensioner discounts guaranteed
Current public liability insurance
Warranty Certificate on installation and service – 12 months
Police Check: This business has passed the Australian National Police History Check