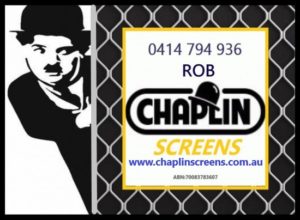 Chaplin Screens is owned and operated by Rob Chaplin who is an experienced tradesman in custom made Security and Stainless Steel Screens and Grilles with over fifteen years, on the job experience in this highly specialised area.
Additional services include, but are not limited to:
Pet doors into existing frames or new pet doors made to specification orders, in either stainless steel or security grille.
Sliding Servery doors through kitchen window to entertainment areas, a specialty.
Safety screens for the protection of children in both multi story homes, and apartments.
Rob states, "There is no such thing as a standard door." All customer contact, whether quotes or installations, are carried out by Rob himself; and not passed off to employees, as the alignment and trims are just as important for the long-term duration of the door itself.  His old-school attitude to work, customer service and satisfaction is commendable.
To talk to Rob, go to the contact page.
Police Check: Rob Chaplin has passed the Australian National Police History Check.
Chaplin Screens is a proud sponsor the Australian Police football association for their 2020 diary.
Additional Information
Appointments available 7 days a week
Free No obligation Quotes
Personal friendly service
Pensioner discounts guaranteed
Current public liability insurance
Warranty Certificate on installation and service – 12 months