When buying or renovating your home, security screen doors may not be the first things that spring to mind. It's far more exciting to plan your colour scheme and choose the latest furniture or kitchen appliances; but in reality, choosing a security door should be a more important decision than the brand of refrigerator for your kitchen.

So, which security screen door should you select? While it may be tempting to go to Gumtree and look for an attractive screen door that visitors will admire, rarely does a screen door just fit perfectly into place, and investing a little more time and money now, will pay dividends for many years to come.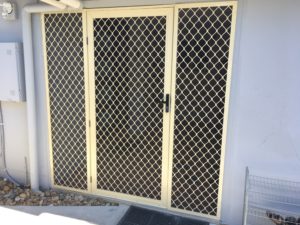 There are many factors to consider. In our Australian climate it's nice to be able to let in some fresh air while keeping out winged invaders, as well as those on two feet. So, a combination of insect screen and security is usually the most popular. The end decision, though, really depends on you, the homeowner. How much do you want to spend? Do you live in a high-crime area, or are flying insects your main concern? Will your home and contents insurance give you a discount if your security screen doors are of a high standard, or alternatively if you do not have security screens on your doors and you have a break and enter, often the insurance will not pay out on your claim.
As you are probably aware, not all security doors are created equal! There are many of different types out there, all with different combinations of features. In this article we'll be taking a broad-brush look at these features, with more details of the features themselves in future articles.
If security is your primary concern, it's a good idea to check that the doors you select meet with Australian Standards.
 In Queensland especially, the standards are a recommendation but are not mandatory nor enforced by any governing body. The National Security Screen association, is working towards a benchmark that will provide consumer protection and a mandated Law in the future, but currently they have no jurisdiction other that recommendations for the industry.
Be aware that some products may be advertised as 'security screens,' but in fact could be only a barrier door.  There a three types of screen doors you should be familiar with:
Stainless Steel Doors: These are the strongest and most preferable screens. if your concerns are that of security, and not wanting to feel hemmed in by the grille feature of a security screen door. These obviously are the most expensive but the longevity of the product out weighs the cost. Especially in your forever home.
Security Screen Doors: These are the most commonly installed security screen doors and are suitable for the majority of security conscious home owners. These are available in a multitude of colours, and are recognised by the diamond grille feature in the main frame. The grille is also made of non-corrosive aluminium, and the fly screen mesh once secured forms the finished result of security screen and insect protection.
Fly Screen Doors: Generally, these types will keep out unwanted flying insects and flies. Made with an aluminium frame, these can have a number of different types of mesh. Notably some meshes are made of nylon, and the better-quality types are made of fibre glass and are more durable long term. For an additional cost, paw proof mesh is available if you have animals in the house that have a tendency to scratch and claw at the screens, this is a better option for this purpose.
Here is a broad look at the main features you may like to consider when purchasing a security screen door:
A sturdy Frame
The majority of frames are made of aluminium. The main advantage of aluminium is that it doesn't rust. The test here is how the corners are joined, and sometimes this corner stake can be plastic where the reputable suppliers prefer and recommend aluminium corner stakes, that are secured into place.
A strong mesh or grille
A stainless-steel mesh that is secured into the frame is the most secure and your best choice. 316 marine grade stainless steel doors have the additional protection of rust prevention and is recommended.
Locks and hinges
While this may be obvious, the locks need to be strong enough to withstand the most persistent intruder. Recommended are 5-pin cylinder locks. There should be at least three hinges with fixed hinge pins, preferably recessed, attaching the door to the frame.
As well as the door itself, it's worth considering how and to what it will be attached. There is little point in having a high-end safety door if it's connected to a weak jamb, or if there's too much space between the jamb and the door itself. Any invader worth his salt, could force his way in by simply applying enough force to splinter the door jamb, leaving the safety door intact. All hinged doors should be triple locked.
Company reputation
The company you choose to install your doors, should be reputable. Check for their years in business and read a variety of reviews. Check to see that they have an online presence through Google reviews, Facebook, Hi pages, and even the Yellow pages. Reviews are a very good way to have an insight into how the company performs at a number of levels, not only in supply and installation on the day, but the communications with the administration staff, through to customer service and the resolving of issues that may have occurred along the way.
Warranty
Check the warranty terms and conditions, I have noted that a number of warranties advertise specific time frames, however, they have a lot of exclusions and this generally only covers the frame, not the lock or installation of the door. Some of the restrictions that are based on the warranty terms and conditions would never enable you to claim against the warranty and could be considered unreasonable.
I hope the above provides enough information for you when starting your search for a decent security screen door.