When buying or renovating your home, security screen doors may not be the first things that spring to mind. It's far more exciting to plan your colour scheme and choose the latest furniture or kitchen appliances; but in reality, choosing a security door should be a more important decision than the brand of refrigerator for your kitchen.

So, which security screen door should you select? While it may be tempting to go to Gumtree and look for an attractive screen door that visitors will admire, rarely does a screen door just fit perfectly into place, and investing a little more time and money now, will pay dividends for many years to come.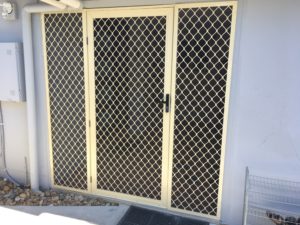 There are many factors to consider. In our Australian climate it's nice to be able to let in some fresh air while keeping out winged invaders, as well as those on two feet. So, a combination of insect screen and security is usually the most popular. The end decision, though, really depends on you, the homeowner. How much do you want to spend? Do you live in a high-crime area, or are flying insects your main concern? Will your home and contents insurance give you a discount if your security screen doors are of a high standard, or alternatively if you do not have security screens on your doors and you have a break and enter, often the insurance will not pay out on your claim.
As you are probably aware, not all security doors are created equal! There are many of different types out there, all with different combinations of features. In this article we'll be taking a broad-brush look at these features, with more details of the features themselves in future articles.
If security is your primary concern, it's a good idea to check that the doors you select meet with Australian Standards. Read More